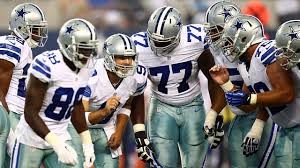 The Cowboys went 8-8 for three seasons in a row, but were eventually able to go 12-4 and clinch the title of the NFC East Division. Then the Packers eliminated them during the postseason, and the last time that Dallas played for a Super Bowl was 20 years ago. However, many pay per head sportsbooks believe that this season could be one where the Cowboys make it all the way
In Las Vegas, it's been predicted that the Cowboys are the favorites by 10/1 to win the Super Bowl, +125 for the NFC East, and 6/1 for the NFC Conference. The team will enter the season of 2015 with QB Tony Romo fully fit, besides having one of the league's top offenses. Dallas had a rushing offense at second place in the NFL, and defenses from opposing teams were mostly unable to reach Romo. But now they won't be playing with DeMarco Murray, who was leading the league in rushing, as he recorded 1,845 yards.
The Cowboys acquired the services of RB Darren McFadden from Oakland, which should prove to be of great help . They also have Joseph Randle and Ryan Williams at running back. Romo will still be playing with WR Dez Bryant – one of the league's top receivers – who last season was able to record 88 receptions made for 1,320 yards, as well as 14 TD's. On Twitter, The player said that he wouldn't participate in training camp if the Cowboys didn't agree on a long-term deal which was signed a few days after the outburst on social media to the amount of $70 million with a guaranteed $45 million through 5 years. TE Jason Witten is back for what would be his 13th season in the league. Last year, Witten had 64 catches to his name and played in what was the player's 10th Pro Bowl.
The Cowboys did lose several defenders, and these include DE's Anthony Spencer and George Selvie, as well as LB's Justin Durant and Bruce Carter. But Dallas did get DE Greg Hardy, making one of the offseason's most important acquisitions. The player made sacks in the double digits for two consecutive years – in 2012 and 2013 – prior to his suspension after what were domestic problems. The player won't be able to feature in the first 4 games this upcoming season, with an appeal pending. However, the Cowboys got Randy Gregor as coverage.
All in all, many pay per head sportsbooks believe that considering the offense that they currently have, the Cowboys are in a very good position to win the Super Bowl this season. If they can keep a healthy defense, they can help the team clinch a second NFC East title in a row.