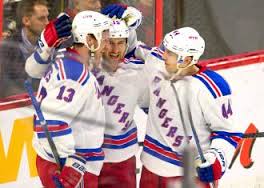 The New York Rangers are the first into the 2015 Stanley Cup playoffs as they beat Ottawa Thursday and clinched their playoff berth.
The excitement came as the Rangers stopped the Senators 5-1 in a stunning win in the Canadian capital.
"We played pretty well away from the puck and we were able to take it home and get two points to clinch a playoff spot," Rangers coach Alain Vigneault said. "Probably caught their goalie on an off night and we were able to capitalize early."
It was the first career regulation loss for Andrew Hammond of the Senators, with 14-1-1.
"We didn't help him and that was ultimately the difference," Senators defenseman Marc Methot said.
The other teams in position to make it to the 2015 Stanley Cup playoffs are the Montreal Canadiens, Tampa Bay Lightning and the Detroit Red Wings in the Atlantic Division and the New York Islanders, Pittsburgh Penguins with the Rangers in the Metropolitan Division both in the Eastern Conference.
In the Western Conference, the Central Division has Nashville Predators, St. Louis Blues, and Chicago Blackhawks, while the Pacific Division has Anaheim Ducks, Vancouver Canucks, and Los Angeles Kings.
With two weeks left, teams are trying their best to gain the points and unlike the NFL, NBA and MLB with a win/loss system of determining entry into the playoffs, the NHL uses a point system. Playoff spots will be determined by total number of points from total wins in regulation and losses in overtimes and shootouts by each team.
So in an NHL game, the winning team gets 2 points, and occurs regardless of in regulation time, overtime, or in a shootout. The losing team receives no points for a loss in regulation time, and 1 point for a loss in overtime or shootout.
The team with the most points at the end of regular season will win their division and goes on to the 2015 Stanley Cup playoffs.
With two conferences and divisions in each, the top three teams in each division will get the 12 spots out of a total of 16 spots. The rest of the positions are filled by the wild cards.