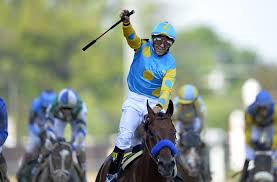 You know, there were a lot of wagers on American Pharoah for the Kentucky Derby. (So many wagers, but apparently not enough straights.) Despite the low original odds of 5 to 2 the final payout at online bookmaking solutions was $7.80 on a win, $8.40 on a place and $4.20 on a show.
Now we look towards the second of the Triple Crown races, the Preakness Stakes on May 16th and the odds and predictions that follow.
Last year's California Chrome managed two straight wins with the Derby and the Preakness, but was unable to overcome the behemoth of Belmont, a very normal end for those attempting a win in all three.
It's too late to bet on these odds, but the line on whether or not there will be a Triple Crown winner this year went off at NO -750, YES +475.
So after American Pharoah's recent win, we imagine a whole bunch more bettors will lay their money down on the horse that could break the record that hasn't been brokend since Secretariat in 1973.
And don't forget who is riding American Pharoah. Victor Espinoza , the same rider who took California Chrome two thirds of the way towards a Triple Crown win, and a favorite at online bookmaking solutions these past few years.
Owner Bob Baffert's top horse has a lot of pressure, to be sure. Predictions have been coming in since the Derby win, and have the horse once again at 5 to 2, but this time to win all three races.
Of course there are a few other horses that have shown that they are up for the task with Divining Rod, winner of the Lexington (G3) April 11 at Keeneland looking very good.
"The horse is doing very well. He breezed on Saturday and right now I am leaning toward the Preakness," trainer Arnaud Delacour said. "I think he's great. I don't want to jinx myself, but at the moment he's doing very well. He has matured quite a bit and he understands more now what's going on."
Online bookmaking solutions will be posting a full list of odds and predictions before the race.