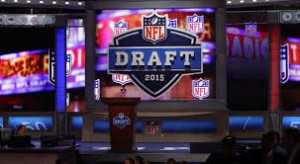 The 2015 NFL draft will be in Chicago from April 30 to May 2 and already mock drafts are starting to litter the Internet. Here's some of the more interesting news on the net about what's happening in the coming weeks.
2013 Heisman Trophy winner, and likely the #1 draft pick, Jameis Winston plans on spending the time of the 2015 NFL draft with family in Alabama. This will be the first time a #1 pick hasn't shown up since1994 when Dan Wilkinson last No. 1 overall pick to not attend the draft, was picked by Cincinnati Bengals.
Benardrick McKinney, a Mississippi State linebacker is possibly visiting Philadelphia Eagles this week, and although considered to be a second round pick, this versatile linebacker had 35 tackles last season and three sacks, and ran his 40-yard dash in 4.66 seconds.
Tevin Coleman , running back for the Indiana Hoosiers had an impressive 2014 season with 2,036 rushing yards and 15 touchdowns. He has reportedly already arranged for meetings with the Baltimore Ravens, the Carolina Panthers and the Arizona Cardinals. For Coleman, these visits are very important, as he was unable to do anything at the combine. He will attend a pro-day workout on the 15th of April.
We already know that Northwestern State defensive tackle Deon Simon has already had a meeting with New England Patriots coach Bill Belichick back during the combine, and he was a little star struck.
"I didn't exactly think Bill Belichick was going to be there. But when I walked in the door, he was sitting right behind the door and he stood up and he shook my hand."
"It felt unreal, I mean, you always see him on television and I mean — that's Bill Belichick! To have the opportunity to be in the same room with him and in the same presence, it was really exciting. I was just trying to hold my composure."
Now he just has to wait for the 2015 NFL draft to see where he will be playing in the future. Maybe he might just end up in New England.