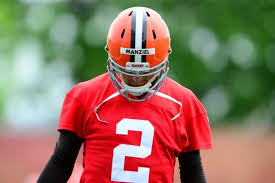 It wasn't long ago that everybody was talking about Johnny Football, or Johnny Manziel, the Heisman Trophy winner from the Texas A&M University and the number 22nd overall draft pick for the Cleveland Browns in 2014, but now the 2015 NFL draft is near and all pay per head services projections and football odds are changing for the quarterback.
Manziel had won SEC Freshman of the Year Award and College Football Performance National Freshman of the Year Award, the Davey O'Brien Award finally the Heisman Trophy to cap off an exciting college career, and big things were expected in Cleveland.
But unfortunately the 2014-2015 season didn't go quite as he had hoped, and he completed 8 out of 35 passes for 176 yards and two interceptions, and rushed nine times for 29 yards and one touchdown. One touchdown. Ouch.
So when it came to how the Browns were going to move forward in the 2015 season, it was no surprise that Manziel's name didn't come up.
"I think about 90 percent that they have moved on [from Manziel] in their own minds except that they really don't know who they're going to get when Johnny leaves rehab, which has been an extended stay — a two-month stay," Mortensen said, via the News-Herald. "He should be getting out some time in the first week of April if they're satisfied that he's ready to go out and get into society and that whatever deep-rooted problems that he had has been addressed. The bottom line is that Johnny Manziel's future with the Browns has been in question. When they were putting together half of a new offensive staff, Manziel's name barely even came up in conversation."
But other rumors have Manziel on the trading wheel, with a possible relocation to the Philadelphia Eagles.
The Eagles would take Manziel with a 1st round pick in the upcoming 2015 NFL draft. The Browns currently have 21st round picks, but giving them up might not be in the cards.
The Eagles haven't been shy about how much they want Marcus Mariota, who had played previously for Oregon under Eagles coach Chip Kelly, so having the first round pick would be crucial for trying to score the quarterback in the 2015 NFL draft.