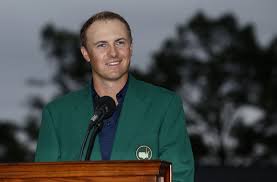 Sunday night price per head agents watched as the 2014 Masters winner, Bubba Watson, handed a fresh new green jacket to a young, polite man from Texas, who seemed to have come out of nowhere. That young man, Jordan Spieth finished the 2015 Masters tournament 18 under par, matching the record.
Spieth led all four rounds of the 2015 Masters tournament, a feat not done since the 1976 masters by Raymond Floyd. Not since Tiger Woods in 1997 have we seen a 21 year old so calmly pass golf pros that have been on the circuit for years.
"This was arguably the greatest day of my life," Spieth said. "To join Masters history and put my name on that trophy and to have this jacket forever, it's something that I can't fathom right now."
Last year Spieth came in 2nd at the Masters, almost becoming the youngest to ever win the Masters, and that might have been what changed how he handled his time off the course, avoiding all press and other players. He reportedly rented two houses in Augusta for friends and family and once the golf was finished for the day, he went off to relax and enjoy his time off.
Phil Mickelson, who came in 14 under par at this year's 2015 Masters tournament, had great things to say about Spieth.
'I played really well to shoot 14 under and I simply got outplayed by a young player who just played some incredible golf."
"Every time I got a birdie here or there, I stalled with a bogey," Mickelson said. "It was a really fun tournament. I thought I played some good golf. I just got outplayed. Jordan was phenomenal."
Spieth is now ranked #2 behind Rory McIlroy, jumping from his previous position of number 4.
"I'm still chasing that goal," he said. "It's going to be very difficult, but to be a large step closer is huge. . . . As far as a rivalry [with McIlroy] right now, I look forward to getting in the heat of the moment with him a couple times in the near future and see if we can battle it out and test our games."