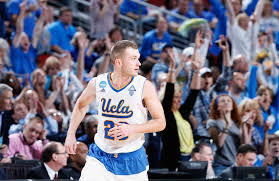 Too bad for all of the busted brackets so far in the 2015 March Madness. (1 went 32-0 at ESPN out of over 11 million) If not for all of those Cinderella wins then we would have seen a few more cheers after UCLA took out UAB Saturday afternoon, 92-75.
Before the game the UCLA Bruins were a 5½ point favorite with online bookmaking solutions, which saw about 60 per cent of the pre-game wagering money on the UAB Blazers plus the points.
The first half saw UCLA leading by 9 and Tony Parker, UCLA center/forward, taking his talent to the net. In total Parker would drop in 28 points in the game, for an advancement to the next round in the 2015 March Madness.
UCLA guard Bryce Alford helped out with another 22 points, while guard Norman Powell added 15. Kevon Looney also added another 10 points to their win.
UAB junior guard 6 foot 5 Robert Brown and freshman forward 6 foot 9 inch William Lee tried to help their team out as much as possible but in the end only scored 25 and 10 points respectively, with another 8 from teammate Chris Cokely.
UAB left number 3 seeded Iowa State behind in the second round with a nail biting 60-59 win on Thursday. The number 14 seeded team surprised even themselves with the close win.
"They predicted us to lose 89 percent; we took that to heart," Lee said. "Little bit of disrespect if you ask me."
"I think the difference was the glass," said Iowa State Coach Fred Hoiberg. "They outrebounded us 52-37 and just kind of had their way on the offensive glass down there.
UCLA will now go on to play the winner of the Iowa vs Gonzaga game at 7:10 pm ET Sunday in the Sweet 16. as it is known to fans.
Current line: Gonzaga -5½, 136½
Are you following the men's basketball games or other sports on our Live Betting platform? Click here now and see how you can offer your players more for the 2015 March Madness and throughout the entire year.