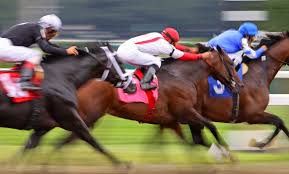 There are just a couple of weeks to the 2015 Dubai World Cup, the platinum cup of horse racing with prizes totaling millions of dollars. Price per head sportsbooks has been looking forward to Saturday March 28th as in-house horse betting increases drastically.
In this, the 20th running of the Middle Eastern race, horses from all over the world come together for $10 million US for the 9th race winner. The other 8 races also carry a hefty purse of $6 million US.
The World's Richest Race is preceded by a carnival, starting on January 8th consisting of 11 high profile races, finishing 3 weeks before the Dubai World Cup. The last race, the Super Saturday, allows horses to take one last shot at being in the Dubai World Cup. It also gives trainers time to fine-tune their thoroughbreds before the big race.
Horse betting fans may recognize some of the horses entered for the main race. Kentucky Derby winner California Chrome will be attending, vying for the big payday and most agree is the odds on favorite of the race.
The Reigning Horse of the Year is the 5/2 favorite at most price per head sportsbooks and with this familiarity, horse betting odds will likely shorten as the race approaches.
One horse that was due to race has now pulled out. Constitution has announced the horse will not be running due to soreness in the shin.
Current price per head sportsbook horse betting odds:
California Chrome 5 to 2
Lea                        5 to 1
Epiphaneia          7 to 1
Tamarkuz             7 to 1
African Story       10 to 1
Ron the Greek     12 to 1
Tonalist                14 to 1
Prince Bishop      14 to 1
Hokko Tarumae  14 to 1
Untapable            16 to 1
Candy Boy           16 to 1
Cat O'mountain  20 to 1
Sky Hunter          20 to 1
True Story            20 to 1
Surfer                    20 to 1
Sir Fever               25 to 1
Frankfourfingers  33 to 1
Date: March 28th, 2015
Location: Dubai Racing Club
After the races, the cup will be presented to the final race winner and 2015 Dubai World Cup day ticket holders will be treated to a 90-minute concert by Kylie Minogue.